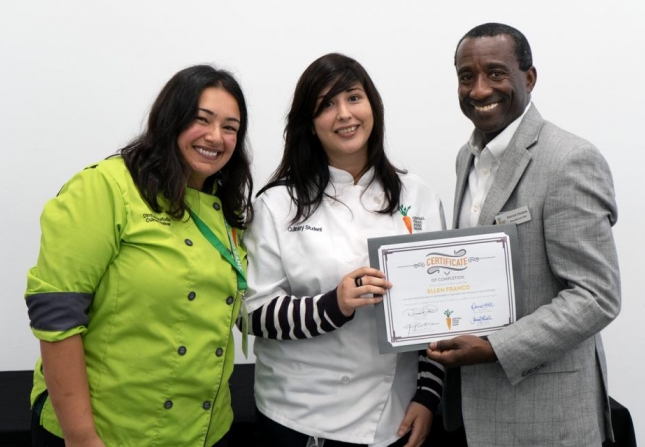 When Ellen Franco had the opportunity to stage at Pitchfork Pretty for her chance to join their kitchen team, she was so nervous that everything she had learned at the Food Bank's Culinary Training Program went out the door.
"When I walked through the front doors of the restaurant, I instantly forgot everything I knew and learned, down to simple things like my right from left," Culinary Training Program graduate Ellen said. "What should've been short tasks were turned into longer and more complicated saves."
Her nerves led her to make simple mistakes and to become clumsy — dropping a hotel pan in an open kitchen. Fortunately, a restaurant cook continued to encourage her and with the Food Bank's chef's words in mind, Ellen made it through her first and second stage.
"My first stage was actually so bad it was funny, but by the end of the night I was offered a position part-time to grow in," Ellen said. "It will always stick with me the words you said about how you can teach culinary but not attitude."
She is now officially part of the Pitchfork Pretty team and is also working full time as part of the kitchen staff at Launderette.
Last month, Ellen and her classmates from the fourth culinary training class passed on the commemorative whisk to the next class and officially graduated from the 12-week culinary program offered by the Food Bank.
The free program, led by Chef Dimitra Vourliotis, offers students three months of real world experience in the Food Bank's state-of-the-art kitchen, working with commercial equipment and training in food production.
"This program provides an incredible opportunity for people in our community and allows for them to grow personally and professionally in a supportive environment," Chef Dimitra said. "Our students tend to get out what they put in to this program. The main take away is this: transformation is possible with hard work, focus, and drive. A 4,200 sq. ft. kitchen doesn't hurt either!"
The goal is to provide students with a springboard to economic mobility, long-term career success and growth, dignity and self-empowerment.
 At the end of the program, students leave with culinary skills such as equipment operation, knife skills and basic cooking techniques from an experiential perspective.
Additionally, students support the Food Bank's efforts to fight hunger by helping prepare Value Added Meals, frozen dinners for our neighbors in need. We're grateful for the students' help. Ellen and her classmates helped prepare nearly 1,000 meals!
Since the Culinary Training Program began early last year, 18 students have graduated. We're proud to see our students grow and put their skills to use in the food industry.
"I am beyond grateful to have been a part of the [Food Bank] kitchen and to leave with so much positivity and love," Ellen said. "This program and you all have opened the door for me to something I am passionate about, and for that I am thankful beyond words. I can honestly say I couldn't have done it without you guys."